Babcock Signs $916M Submarine Infrastructure Deal with UK Defense Ministry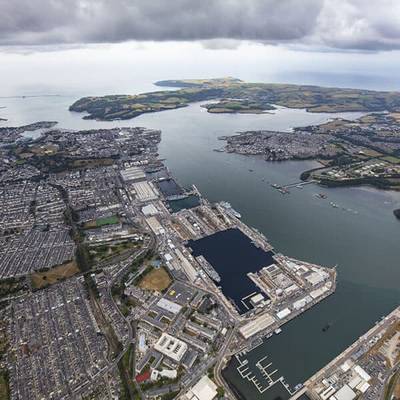 Defense contractor Babcock has signed a four-year £750 million (~$916 million) contract with the UK Ministry of Defence's (MOD) Submarine Delivery Agency (SDA), to deliver the infrastructure required to support and sustain the UK's submarines for decades to come.
As part of the major infrastructure program underway at the Devonport site, Babcock said it would deliver substantial upgrades to existing infrastructure that will support the future capability of the Royal Navy and the UK's Defence Nuclear Enterprise.
The contract for the delivery of infrastructure to support submarine maintenance includes a dock, logistics, and modern support facilities.
The contract forms part of the site-wide infrastructure upgrade programme at Devonport to enable the ongoing delivery of base maintenance periods and deep maintenance projects for current and future classes of submarine, including nuclear defuel.
Defense Secretary Grant Shapps, said: "Maintaining the infrastructure that supports our world-leading submarine fleet is crucial. Delivering on our government's priority to grow the UK economy, this significant investment will create and sustain more than a thousand UK jobs in the south-west, providing vital improvements to the dockyard that will be critical to ensuring our Royal Navy can continue to protect the UK and our Allies."
Sir Chris Gardner KBE, CEO of the Submarine Delivery Agency said: "Investing in our vital submarine maintenance facilities in the Defence Nuclear Enterprise at Devonport is critical to our National Security. I am delighted to have placed the construction contract with Babcock for the delivery of dock and infrastructure for our Attack Submarine deep maintenance projects later this decade. This will ensure we deliver available and capable submarines for the Royal Navy to operate in defence of our Nation."
David Lockwood, Babcock's Chief Executive, said: "The work we deliver in sustaining the entirety of the UK's submarine fleet is critical. This investment will ensure that we are able to continue to deliver the complex maintenance and life-extension programmes we undertake to ensure our Royal Navy can continue to go to sea safely, and able to deliver their important work in protecting our nation."
The construction program has been described as one of the largest of its kind and highlights the MOD's investment being made at the Devonport site, the skills and capability this brings to the city and region.
According to Babcock, the major infrastructure program will see a further 1,000 construction roles created as the construction phase of the program continues to ramp up over the coming year. Supporting Babcock on 10 Dock are delivery partners Costain and Mott Macdonald, and main works contractor Kier BAM.