Ecosse IP Trials Subsea Lifting Tech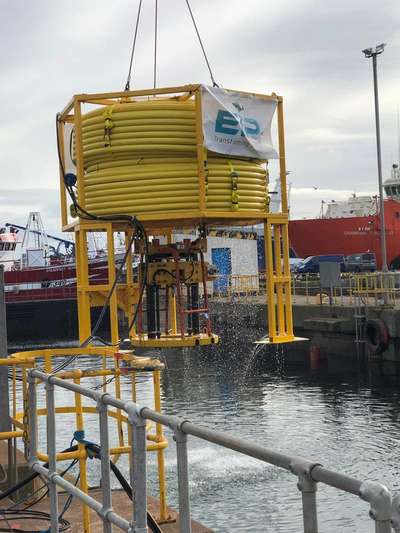 Subsea technology developer Ecosse IP (EIP) demonstrated the capabilities of its Ambient Lifter subsea and decommissioning solution during a two-day industry showcase event held in Fraserburgh, Scotland this week.
EIP welcomed representatives from across the industry, including the Oil and Gas Technology Center (OGTC), which is jointly funding the field trial in order to develop new solutions that will reduce subsea installation and decommissioning costs.
Ambient Lifter was designed for the offshore sector, providing a cost-effective and viable solution for lifting subsea assets, EIP said. The system can be used to lift, lower or hover any subsea object, by controlling buoyancy and ballast in low pressure pipes, either using low cost vessels with no requirement for heave compensation, or using underwater vehicles. Modular in design, the Ambient Lifter is both configurable and scalable to support a range of lifts from 10Te to over 24,000Te.
The field trial demonstrated the technology's buoyancy capability in partnership with remotely operated underwater vehicles (ROVs), which allows the technology to lift 200 times its current capability.
EIP believes the technology could potentially replace the need for heavy-lift vessels and improve safety by removing the need for subsea divers. Furthermore, it will reduce offshore waiting times as the system can operate in challenging sea conditions, in contrast to current methods of delivery, it said.
Mike Wilson, Ecosse IP, said, "The 10Te Ambient Lifter, using either an ROV or an [autonomous underwater vehicle (AUV)], will free swim with over 200 times the weight of a conventional ROV, which is limited to about 50kg. The ability of lifting 10,000kg opens up the scope of subsea construction, subsea salvage and applications that no one has even thought about yet."
Wilson said partners Oceaneering and the OGTC have supported EIP in delivering this project so far, including the field trials this week.
Susi Wiseman, Project Manager for the OGTC, added, "This project has the potential to reduce subsea decommissioning costs by up to 40%, worth nearly £35 million over the next decade."
Wiseman said the technology will reduce costs, particularly in decommissioning, which remains a major focus for operators in maturing North Sea basin.
For decommissioning applications, the Ambient Lifter can be used to float items such as jacket sections from decom zone to shore behind small towing vessels, or lift decom debris in the 500m zone into subsea baskets which can be recovered by anchor handler vessels.
EIP said its engineering team is available to assist clients with specialist engineering to develop, design and build tailored subsea solutions for each operation. The company said it is currently in discussion with several operators on many upcoming decommissioning and subsea projects.