First of a Kind Offshore Renewable Energy Hybrid Project Unveiled in China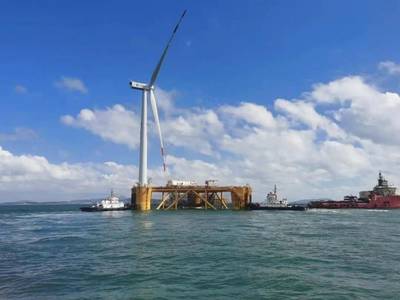 The world's first offshore renewable energy project, combining floating wind power and deep-sea aquaculture, has been completed in China, Shanghai Electric Wind Power Group has informed.
The project is developed by Longyuan Power Group, together with Shanghai Electric Wind Power Group (Wind Power Group), a subsidiary of Shanghai Electric, which provides the power generation equipment and offshore turbine towers.
Built within the National Marine Ranching Demonstration Zone on Nanri Island, located in Putian, Fujian Provence of China, the project features three-column semi-submersible floating platforms, each one supporting a 4 MW offshore wind, and lightweight, flexible solar modules that are installed in the area with a water depth of around 35 meters. A hexagonal space within the platform's central area can be used for fish farming.
"Once operated, the mixed energy project has the capacity to generate 96,000 kWh of electricity daily at full capacity, which is equivalent to the daily energy consumption of 42,500 people. The pioneering convergence of wind, photovoltaics and aquaculture presents a new horizon for the industry to develop sustainable and green renewable solutions designed to reduce carbon emissions, while driving economic growth," Shanghai Electric said.