LionLink: UK, Netherlands Plan Cross-border Power Link to Boost Energy Security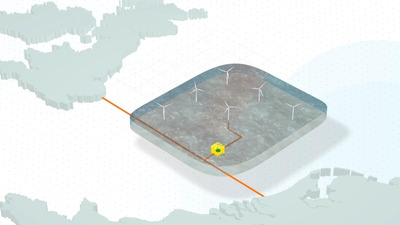 The Netherlands and Britain plan to build what would be Europe's biggest cross-border electricity link connected to an offshore wind farm, their energy ministers said on Monday, part of efforts to boost energy security.
The "LionLink" interconnector will be able to transfer 1.8 gigawatts (GW) of power to Britain from a Dutch wind farm, or the same volume of electricity produced in Britain to the Netherlands, they said in a statement ahead of a leaders summit on energy in Ostend, Belgium.
The link, being developed by Britain's National Grid and Dutch electricity network operator TenneT, will move enough surplus power between the countries to power the Dutch province of Zuid-Holland, or the British cities of Birmingham and Manchester combined, the ministers said, without specifying the route of the cable.
"This new connection further boosts energy security and energy independence in Europe," Dutch Energy Minister Rob Jetten said in a statement.
Britain's energy minister Grant Schapps said the countries were "sending a strong signal to Putin's Russia that the days of his dominance over global power markets are well and truly over." Britain and the Netherlands currently have one power interconnector, the 1GW BritNed link.
The new project is part of a broader pledge the governments of nine countries around the North Sea will make on Monday, to develop renewable energy in the region as they strive to avoid a repeat of their over-dependence on a single foreign source like Russia.
The countries' leaders will commit to rapidly building wind farms and developing energy "islands," or connected offshore green power generation sites, according to a draft of their summit declaration seen by Reuters.
The countries, which also include Germany, France, and Norway, aim to develop a combined 120 GW of offshore wind capacity by 2030, the draft said.
(Reuters - Reporting by Kate Abnett and Julia Payne; Editing by David Holmes)