Swift Anchors Gets OWGP Grant to Complete Testing of Floating Wind Anchor Technology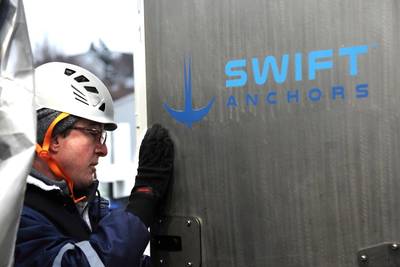 Scotland-based Swift Anchors, developing anchoring solutions for the global offshore renewable energy and aquaculture industries, has secured a UK£395,000 grant from the Offshore Wind Growth Partnership (OWGP).
Swift Anchors, a subsidiary of AQUOS SCHOTTEL Marine Technologies since October 2022, said Thursday it would use the OWGP grant to complete testing of its anchor technology in diverse and technically challenging rock seabed sites for floating offshore wind (FOW) projects.
The company said it would work with several subcontractors such as Morek and Mollart Cox and researchers from the University of Dundee to deliver the project.
Swift Anchors said it would evaluate data from a number of planned floating offshore wind projects which are in the pipeline to deliver international targets by 2030.
The company will create baseline specifications for its rock anchoring solution, such as mooring system demands, loads, and architectures, before building and deploying scale anchor models to a representative testing site.
After testing and validation, Swift will partner with the University of Dundee for testing across an array of rock strengths. The resulting data will be evaluated, and anchor design will be updated and certified by DNV against a specific floating wind standard: DNV-ST-0119.
David Ainsworth, Managing Director of Swift Anchors said: "Thanks to the OWGP's grant support, we are able to work with the University of Dundee and other companies on this anchoring project. It gives us the opportunity to capitalise on the fantastic opportunities that floating offshore wind offers. If the UK and other countries are to deploy the potential FOW capacity over the next decade and more, finding cost-effective and robust anchoring solutions for diverse and challenging seabeds are essential."
"The results from our OWGP project, our experience of working on tidal energy projects on both sides of Atlantic over the past 10 years and the pedigree and expertise of the wider SCHOTTEL group of companies that we draw from, will support the growth of FOW in UK and indeed global waters."