Aker Solutions Buys Stake in Airborne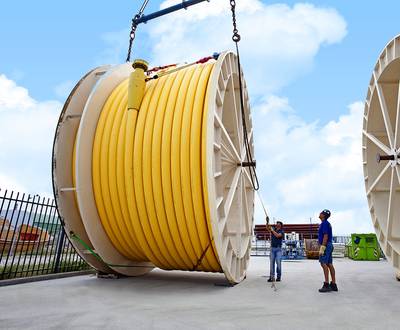 Airborne Oil & Gas announced Friday that Aker Solutions has joined its shareholder base to further strengthen, integrate and diversify its range of thermoplastic composite pipe (TCP) solutions for the international subsea sector.
The global engineering company joins other shareholders Chevron Technology Ventures, Evonik Venture Capital, Saudi Aramco Energy Ventures, Shell Ventures, Subsea 7, Sumitomo Corporation and the private equity investor, HPE Growth Capital.
Oliver Kassam, Airborne Oil & Gas CEO said, "We have a very strong portfolio of organizations invested in the business, and the addition of Aker Solutions is significant as there are several areas where we can optimize the benefits of TCP to offer the sector an enhanced range of integrated products, including subsea production solutions."
Aker Solutions has an extensive track record in developing offshore oil and gas fields with capabilities in front end engineering design (FEED) and subsea production systems. The collaboration will see the firm utilizing TCP to improve field development economics globally.
"We also look forward to working closely with Aker Solutions to explore synergies for collaborative manufacturing and producing the next generation of TCP solutions for deepwater developments in line with our overarching strategic goals," Kassam said.
Airborne Oil & Gas CEO, Oliver Kassam (Photo: Airborne Oil & Gas)

TCP is manufactured from a composite of fibers and polymers making it flexible and spoolable with continuous lengths up to 4km and above. According to Airborne, the material is built to handle design pressures up to 15,000 psi/1,050 bar and temperatures up to 121˚C/250˚F, and it outperforms steel and other pipeline materials in terms of durability, corrosion resistance and total installation costs. In addition, its long length and low weight allow for much faster and cheaper installation, creating more options in the overall project development schedule.

Chief technology officer at Aker Solutions, John Macleod, said, "At Aker Solutions, we constantly work to improve the performance and cost-efficiency of our technology and the materials we work with. Acquiring a stake in Airborne Oil & Gas positions Aker Solutions at the forefront in the development of next-generation pipeline materials. We are excited to work with Airborne to introduce existing and new applications of thermoplastic composite pipe solutions into our subsea portfolio."

• Sumitomo Corporation • Aker Solutions • oil and gas fields