#Oi2020: Subsea History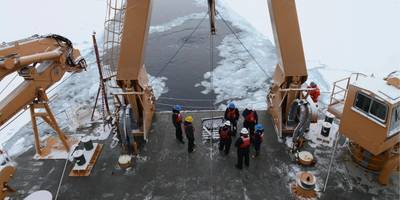 In 2003, Dr. Larry Mayer, director of the Center for Coastal and Ocean Mapping (and his team at the center), worked closely with the U.S. Coast Guard (USCG) to gain access to a platform capable of breaking and transiting through ice, while also supporting the scientific equipment needed to gather data on the extended continental shelf (ECS). The Coast Guard Cutter Healy was tasked with the job, and during Mayer's first outing with the vessel that year he and his team discovered a 10,000-foot high seamount approximately 400 miles north of Barrow, Alaska, which they named the Healy Seamount.
Thirteen years later, On September 23, 2016, (see photo) the Healy's crewmembers prepared to deploy a dredging project in the Arctic Ocean. The mission was for the purpose of collecting rock samples from outcrops of a seafloor canyon. The project was unique in that today's modern expeditions (such as this one) can now include sovereign rights to resources in icy areas that more than 10 years ago were inaccessible.
Marine Technology Reporter has been commissioned to publish the Official "Oceanology International 50th Anniversary Edition" which will distribute with the MARCH 2020 edition of MTR. For information on advertising in this edition, contact Rob Howard @ howard@marinelink.com, t: +1 561-732-4368; or Mike Kozlowski @ kozlowski@marinelink.com, +1-561-733-2477.